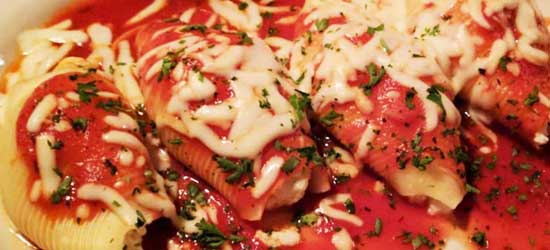 Served from 11:00AM - 3:00PM only. Free delivery from 11:00AM - 3:00PM.
All pastas served with salad and bread. All sandwiches served with chips.
Pastas
SPAGHETTI, CAPPELLINI, RIGATONI, FETTUCCINE  7
Add meatball or sausage 1.25.
HOMEMADE GNOCCHI  8
EGGPLANT PARMESAN WITH FETTUCCINE  8
CHICKEN PARMESAN WITH FETTUCINE  11
3 JUMBO STUFFED SHELLS  10
6 MEAT OR CHEESE RAVIOLI  10
MUSHROOM RAVIOLI  10
FLORENTINE RAVIOLI  10
Steak & Portobello Mushroom RAVIOLI  12
SALADS
GRILLED CHICKEN SALAD 8
GRILLED STEAK SALAD 10
ITALIAN SALAD 9
SHRIMP SALAD 12
AHI TUNA SALAD 16
NORWEGIAN SALMON SALAD 16
DINO'S BRUSCHETTA SALAD 14
FRESH TOMATO AND MOZZARELLA SALAD 9
Sandwiches
4 meatballs in a bowl with salad  8
Add provolone cheese, peppers, & onions for only 1.00.
Fried chicken Parmesan sandwich with mozzarella cheese  8
Steak Burger  8
8oz Black Angus - add cheese for only 1.00.
Fried or Broiled canadian white fish sandwich  8
Fig Italian sandwich  8
Capicola, Genoa salami, provolone cheese, lettuce, tomato, onion, and Italian dressing.
meatball or sausage sandwich with provolone cheese  8
Add peppers & onions for only 1.00.
Soup Du Jour
Italian Wedding
Mushroom Brie Bisque
Fresh Soup of the Day
Cup 3 | Small Bowl 5 | Large Bowl 7
Soup and salad  8
All you can eat soup and salad  11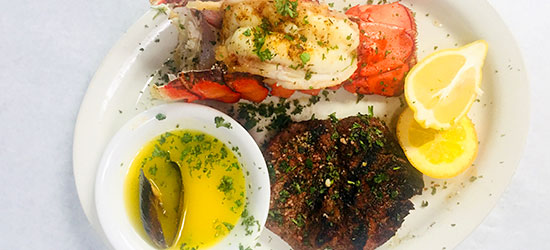 All entrees include two sides
All steaks are choice, center cut and dry aged for 21 days
16 Oz Bone In Ribeye Steak 30
12 Oz Black Angus Strip Steak 25
8 Oz Black Angus Filet Mignon 27
Broiled Center-Cut Pork Chops
French-cut chops.
1 - 10oz 16 2 - 10oz 28
9 Oz Prime Cut Fresh Fillet Of Canadian White (Cod)
Available broiled or fried. 14
Grilled Ahi Tuna Fillet
8 oz Ruby-red, sashimi grade tuna steak garnished with a housemade cucumber wasabi sauce. 17
6 Jumbo Broiled Or Fried Shrimp 22
Norwegian Red Salmon
8 oz Sashimi grade salmon available lemon pepper or cajun. 16
Chilean Seabass
Pan seared in a white wine lemon butter, garnished with a red pepper pesto sauce. 27
Pecan Crusted Tilapia
Baked to perfection and crusted with pecans. 17
Jumbo Coldwater Sea Scallops
Broiled and served with drawn butter. 24
Premium Canadian Cold Water Lobster Tails
9 oz Tails. Single Dinner - 29 Twin Dinner - 44
*Available Friday and Saturday *
Prime Rib
Queen Cut - 12 King Cut - 16
*Available Thursday, Friday and Saturday Only*
Make any steak Pittsburgh style for only $2 more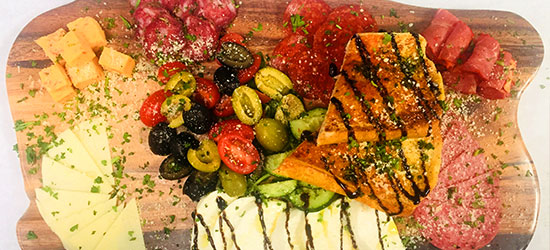 All Side Dishes $3
BROCCOLI
ASPARAGUS
BRUSSEL SPROUTS
RISOTTO
PASTA
FRENCH FRIES
ONION RINGS
SIDE SALAD
COLESLAW
COTTAGE CHEESE
APPLESAUCE
BAKED POTATO
SOUP OF THE DAY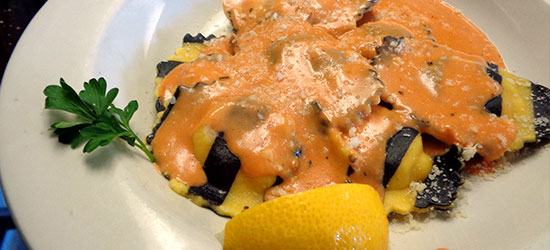 with Figaretti 's famous marinara sauce
LOBSTER 18
WILD MUSHROOM 15
CHEESE OR MEAT 13
FLORENTINE 16
MARYLAND BLUE CRAB 18
STEAK & PORTOBELLO MUSHROOM 17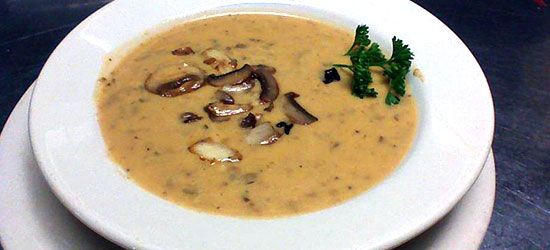 Fried Calamari
Fresh, lightly breaded, fried calamari. 13
Chicken Tenderloins
5 Lightly breaded chicken tenderloins,  fried golden brown. 12
Italian Antipasto
Seasonal imported Italian meats and cheeses. Small serves two- 12 Large serves four - 16
Jumbo Shrimp Cocktail
6 Jumbo shrimp served with lemon and our housemade cocktail sauce. 18
Homemade Fried Provolone
Our signature half moon cheese wheels, fried to a golden brown and served with our famous marinara sauce. 7.
Black Mussels
12 Succulent, tender, black mussels cooked in olive oil and garlic. 10
Combination
A unique blend of two meatballs, two cheese wheels and fried zucchini. 12
Fig's Famous Appetizer
A tasty mixture of sauteed peppers, onions and our fresh housemade Italian sausage, cooked in marinara and garlic.
Small serves two - 8 Large serves four - 10
Fried Zucchini
Lightly breaded Italian squash, fried golden brown and served with our marinara sauce. Small 8 Large 10
Stuffed Banana Peppers
3 Fresh banana peppers stuffed with sweet Italian sausage topped with our marinara sauce and mozzarella cheese. 10
Garlic Bread
4 Pieces of fresh baked Italian bread served with
a side of our marinara sauce. 3
Soup de Jour
Italian Wedding
Mushroom Brie Bisque
Fresh Soup of the Day
Cup 3 Small bowl 5 Large bowl 7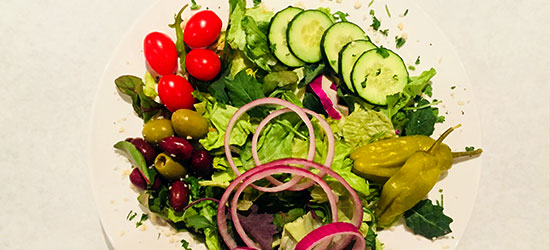 All of our salads are a mixture of only the freshest ingredients ~ from fresh chopped romaine & iceberg lettuce to our carrots, shredded red cabbage, red onion, sweet grape tomatoes and crispy cucumbers.
Grilled Chicken Salad
Chicken breast grilled to perfection over an open flame and topped with french fries and melted cheddar cheese. 12
Grilled Steak Salad
Tender filet mignon tips grilled to your liking  and topped with french fries and melted  cheddar cheese. 14
* Italian Salad
Provolone cheese, Genoa salami and capicola ham, goes great with our housemade Italian dressing. 12
* Dino's Bruschetta Salad
Romaine lettuce with grape tomatoes, Genoa salami, capicola ham, provolone cheese, tossed in garlic, lemon, olive oil, basil and parsley served with toasted, buttery, garlic bread. 14
* Fresh Mozzarella and Tomato Salad
Garnished with fresh basil, onions, green and black olives and olive oil. Small 9 Large 11
Grilled Ahi Tuna Steak or Norwegian Salmon Salad
Grilled to your liking. Prepared lemon pepper or cajun. 16
Jumbo Shrimp Salad
5 Tender jumbo shrimp. Available grilled or chilled. 19
Housemade Dressings
Italian, ranch, balsamic vinaigrette, blue cheese and bruschetta
Blue cheese and bruschetta dressing is an upcharge of $0.60.
Dressings
Fat free raspberry vinaigrette, sweet-n-sour, thousand island, french & honey mustard.
*Upgrade your side dish with one of these three salads for $4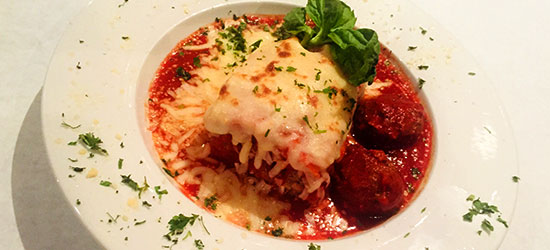 All entrees served with Figaretti's famous marinara sauce, fresh homemade Italian bread and our fresh garden salad. Add our homemade meatballs or sausage for only $1.25 each
Imported Italian Pasta
Spaghetti, rigatoni, cappellini, fettuccine or whole wheat spiral rotini. 11
Handmade Potato Gnocchi 13
Handmade, Six cheese Sacchetti (tortellini) 13
Stuffed Shells
4 Jumbo stuffed shells filled with seasoned ricotta cheese. 13
Madsia & Madsia (half & half)
A unique blend of meat or cheese ravioli served alongside your choice of imported pasta. 13
Decadent Manicotti
4 Fork-tender imported pasta rolls stuffed with seasoned ricotta and Romano cheeses. 13
Stuffed Rigatoni
Imported rigatoni stuffed with spiced ricotta, Parmesan and Romano cheeses. 12
Chicken Parmesan over Fettuccine
Tender, hand-pounded chicken breast, lightly breaded and fried to a golden brown, smothered in our famous marinara sauce and topped with melted Italian cheeses. 14
Stuffed Eggplant Parmesan over Fettuccine
Handpicked eggplant rolettes stuffed with ricotta and Romano cheeses and topped with our world famous marinara sauce. 13
Fig's App over Fettuccine
Same great dish as the Fig's Famous Appetizer~  just made into a hearty meal! Served over a bed of imported fettuccine. 14
Pasta with Clam Sauce
Fettuccine topped with your choice of our delicious red clam sauce, oil and garlic clam sauce or creamy alfredo clam sauce. 17
Pan-Fried Veal
8 oz Tender veal cutlet, hand pounded until tender. 18
Add sauteed peppers, onions, and mushrooms for only $1.00 more.
Veal Parmesan
8 oz Tender veal cutlet baked in our famous marinara sauce and topped with melted provolone cheese and a side of imported fettuccine pasta. 16
Godfather II
Sliced peppers, onions and red ripe tomatoes sauteed in olive oil, white wine, a blend of spices and garlic and served over fettuccine with four jumbo shrimp ,and black mussels. 24
Fig's Heaping Lasagna
A unique piece of homemade meat lasagna specially made using imported lasagna noodles, our housemade sausage, smoked ham, marinara sauce and topped with provolone cheese. 15
Dino Fig Special
Pan-fried fettuccine with spicy garlic marinara sauce, cooked with white wine and topped with 4 jumbo shrimp. 22
Chicken Alfredo
Grilled chicken breast, topped with our creamy house made alfredo sauce and served over a bed of imported fettuccine pasta. 15
Chicken or Veal Marsala
Cooked to perfection and topped with our signature, imported marsala sauce and served over a bed of rigatoni.
Chicken 18 Veal 19
Chicken or Veal Picatta
White wine sauce cooked with garlic, olive oil, whole plum tomatoes and capers. Served with imported fettuccine pasta. Chicken 18 Veal 20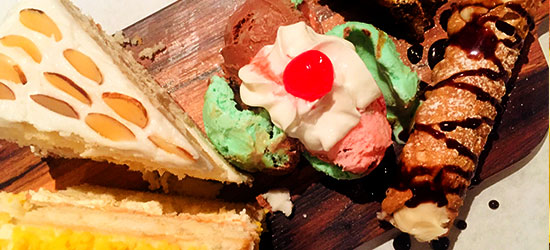 All Desserts $5
HOMEMADE CAKES, PIES
SPUMONI ITALIAN HANDMADE ICE CREAM
A VARIETY OF GELATO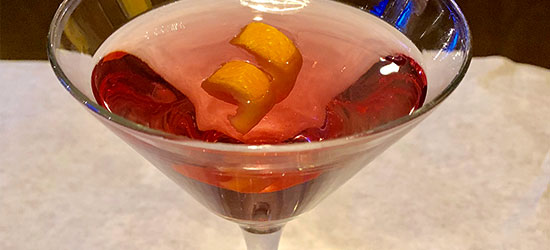 COKE
DIET COKE
SPRITE
DR. PEPPER
MELLOW YELLOW
LEMONADE
GOLD PEAK
UNSWEETENED TEA
SWEET TEA
RASPBERRY TEA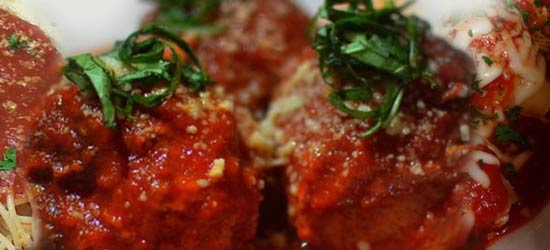 FULL SERVICE
CATERING MENU
Planning a special event, large party or small office catering event? Let us take care of it!
All packages include Italian Bread, Parmesan Cheese, Plates, Cutlery, Set-up, Buffet Service and General Cleanup. Twenty percent gratuity added. Drinks are not included.
OPTION #1
$12 per person
Includes Rigatoni or Spaghetti with marinara sauce.
Meatballs or Sausage
Salad
OPTION #2
$17 per person
Includes option #1 plus choice of chicken entrée and choice of seasonal vegetables.
OPTION #3
$20 per person
Includes option #1 plus your choice of chicken, beef or pork and seasonal vegetables.
OPTION #4
$25 per person
Includes option #1 plus your choice of chicken, beef or pork, and seafood and choice of seasonal vegetables.
LARGE GROUP
CATERING MENU
RIGATONI WITH MARINARA SAUCE
Small $35.00
(Serves 10-15)
Large $55.00
(Serves 20-25)
MEAT OR CHEESE RAVIOLI
By the piece $1.50
MANICOTTI
By the piece $3.00
GRILLED CHICKEN BREAST
By the piece $6.00
FRIED OR BAKED CHICKEN
(legs, thighs, breast mix)
By the piece $3.00
(12 hr. advance notice needed)
CHICKEN PARMESAN
(7 oz breast of chicken)
$7.00
GRILLED SEASONAL VEGETABLES
Small $40.00
Large $75.00
3 STUFFED BANANA PEPPERS
$10.00
TRADITIONAL OR SPICY CHICKEN TENDERS
By the piece $3.00
MEATBALL
By the piece $1.25
FRIED ZUCCHINI
By the piece $1.75
SAUSAGE
By the piece $1.25
GARLIC BREAD
2 slices $2.00
SALAD
Small (Serves 10-15)
$25.00
Large (Serves 20-25)
$35.00
MARINARA SAUCE & SALAD DRESSINGS
Quart $8.00
Pint $5.00
FIG'S FAMOUS APPETIZER
Peppers, onions, homemade sausage with Marinara
Small $60.00
Large $120.00
LASAGNA
Small $80.00
Large $160.00